I live under a lot of pressure. Most of it is self-inflicted, if not all. The pressure to be a good mother, wife, daughter, friend, sister, in-law, tutor, homeschooler…
I receive many compliments on making it all look easy. They are all well-meaning, genuine kind words of praise that make me feel good, like I'm doing something right. But I also want to feel human, that it's okay to feel human.
Humans crack under pressure. Humans make mistakes. Humans fall and break.
If you're wondering about me, I'll be working on relieving some of that pressure and mending the broken pieces.
*****************************
This was my 5 minute Stream of Consciousness Sunday post with All Things Fadra.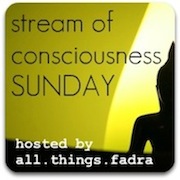 This is also my
Unmeme
post for the week because I have some healing to do and may or may not put blogging on the back burner.  Feel free to link up below if you need a guilt-free blog break, too. Just
Answer the question: What else is going on in your life besides blogging?
Grab the Un-meme button conveniently located in the sidebar.
Link up your post below!