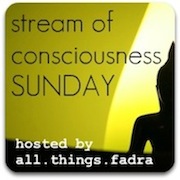 Mary from I Need a Playdate
recently left a comment about craving pie during pregnancy even though she doesn't normally like pie.
So for the next 5 minutes I shall remember my pregnancy cravings. Why 5 minutes? Why it's Fadra's Stream of Consciousness Sunday!
During each of my 4 pregnancies, I had the same cravings. First, I craved meat. Red meat cooked medium well. This was actually a sign of pregnancy given that I normally eat a vegetarian diet. Second, I craved peach yogurt. Stonyfield organic peach yogurt to be exact. Absolutely no other brand or flavor would do, so my husband would buy flats of it at a time.
During my last pregnancy, in addition to meat and yogurt, I craved ice. Cups and cups of ice. I turned into this ice connoisseur as I would sample it everywhere we went and compare taste, texture, size, and shape. Restaurants, movie theaters, friends' homes…7-11! I found that the only ice I truly loved was at the Santa Cruz Diner so it's a good thing they're open 24-7.
At first, my husband would go in and ask for a large cup of ice almost daily, but as time went on, he started bringing in our biggest  bowl to be filled and stored in our freezer. They never charged him and I know they  only asked when the baby was due a couple of times, perhaps hinting that this couldn't go on forever. Of course, my craving went away after the baby came.  I always meant to write a thank you note to the restaurant manager for generously accommodating a pregnant woman's cravings, however strange.
Ironically, stuff that I loved when not pregnant were complete turn-offs once I was. For example, every morning for the past 6.5 years I've drank the same shake for breakfast consisting of grape juice, orange, lemon, ginger, cayenne pepper, blueberries, strawberries, and flax seeds. During pregnancy I wanted nothing to do with it. Instead I wanted buttered sourdough toast with hardboiled eggs, hash browns and veggie sausage piled on top. Or, my other favorite, waffles topped with cottage cheese, bananas, and maple syrup. Once, I packed my waffles to go because I had to attend a super early work meeting. After eyeing my waffles, my co-worker exclaimed, "Now that's a pregnant woman's breakfast!" And this was before I had made my announcement that I was with child…again!
So, my five minutes is up…tell me, what did you crave during pregnancy?